2017 Most Advanced Silicone Laminating Machine with CE
2017/10/25 15:01:29 Click£º
Silicone Laminating Machine is simple and convenient operation, mainly for clothing silicone embossing, silicone trademark molding applications, this machine is equipped with a slide, hot pressing, cold model device, easy operation, high production efficiency, labor-saving devices. high quality, embossed industry equipment, easy to operate production, more secure, energy-saving and environmental protection, replace the inadequacies of traditional equipment, is the ideal choice of silicone products industry equipment.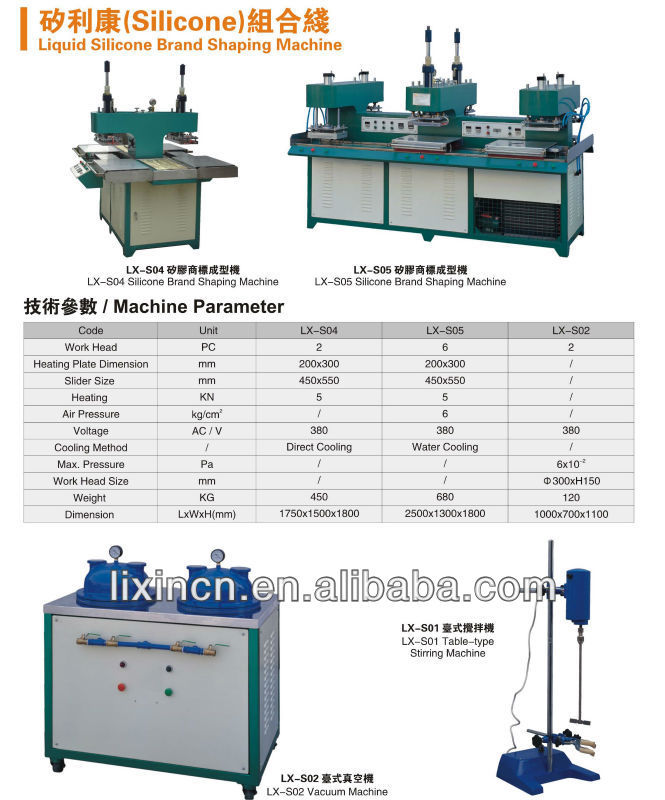 Technical Parameters
Silicone brand shaping machine advantage:
1) Mechanical optional hands move and automatic sliding table control platens fluctuation, timing forming automatic playback, operating more safety.
2) Intelligent PID output temperature controller, temperature fluctuation, a difference of 1 degree more accurate. Up and down the independent control heating;
3) The pressure 1-10 t adjustable; Oil cylinder specifications: diameter 100mm * stroke 120mm * adjustable 50mm, 6 head can be operated at the same time.
4) Machine's Middle for air pressure, the pressure is equipped with a filter gas cup surge, left and right is oil pressure type, pressure adjustable, 6 head can be operated at the same time.
5) Automatic delay shutdown function, mechanical more energy-efficient, hydraulic motor is 4 Kw, combined double flow pump, to ensure that the four hydraulic cylinder and pressure will not be significantly speed down.
6) Oil cylinder and air cylinder have stroke limit device for producing high quality products to provide better security;
7) Mechanical matches a typhoon cooled chiller, as the middle pressure type cooling aluminum provide cold water cooling, cooling temperature from room temperature to 4 degrees arbitrary adjustable.
8) Mechanical have adjustable machine, automatic and manual three function transformation, with water inward and outward.
Sample Production:
Contact us:
Guang Dong Li Xin Intelligent Technology Co.,Ltd.
China Factory: Niu Shan Industrial Garden:Dong Chen District,Dong Guan, Guang Dong, China
Tel:+86-769-22664082 22698499 22209643
Fax :+86-769-22669648
E-mail: jenny@gobohk.com
Mobile/Skype: +86 13623836932
Wechat: lx-sale18